Market Edge provides a suite of custom tools that support concepts delivered through our capability improvement programs.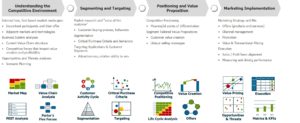 The tools have an intuitive custom tool-bar at the top of every page.

The Home Icon leads to a Cover Page to document the scope of the analysis, team, date and main reference materials.
The Instructions Page provides a description of the tool plus step by step guidance on data and assumptions entry that will be used in the analysis.
The Input Page (and in some cases multiple pages) contains predefined templates for data and assumption gathering.
The Output Page provides a graphical visual output for team analysis and insight generation.
Visualizations are Fully Customizable to meet Brand and Aesthetic needs.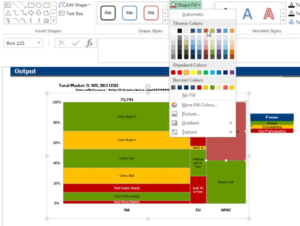 Colors within the graphs and charts can be modified via standard excel functions.
Access full excel functions by clicking Show All on the custom toolbar.
Charts and tables can be transferred to powerpoint using copy and paste, screen-capture, or by clicking "Copy Output."
 Every Market Edge Tool includes an Implications Page.
On this page document Insights generated, actions to be considered, Sources of information, Confidence Level that the data is current and accurate, and potential actions to improve the data being inputted into the analysis.