What is marketing capability? It can be defined in many ways, but it comes down to the basics of knowing how to make your team stronger in order to improve performance and build your brand. To be successful in today's competitive environment, organizations must develop their marketing team to have excellent strategic thinking and outstanding marketing capabilities.
"Across all industries, overperforming organizations train their marketing teams more often and better than the competition, and are growing their revenues faster. What does it take to win?"
– Marc de Swaan Arons, Forbes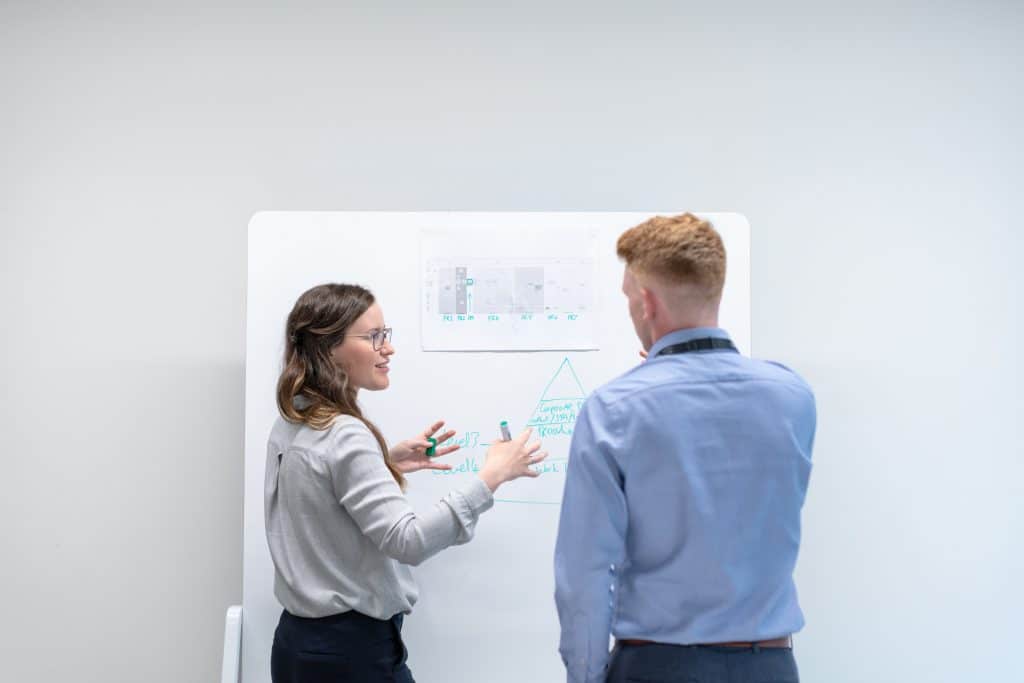 Business directors often get caught up in the daily hustle of their business routine. More often than not, they are unable to take the necessary time to properly assess internal marketing capability. This causes a problem in the long term because marketing capability is the key driver of customer acquisition and retention. Instead, business directors should provide answers to some of these key critical questions:
Is my marketing organization equipped with the right capability to achieve the company's business objectives?
Do the members of my marketing organization have an individual capability development plan that will help strengthen weaker areas of performance?
If the answer to the above question is no, how can I make this happen?
Use marketing capability assessments to:
Test the specific marketing skills and knowledge required to implement your business strategy. 
Ensure your team has the necessary marketing tools and processes.
Identify and leverage best practices across your organization and from relevant benchmarks.
Capability assessments deliver actionable insights on the team and individual marketing capability across a wide range of perspectives:
Market Understanding – Do we have a deep, fact-based understanding of the market (value chains, customers, competitors (in kind and not in-kind), its trends and drivers, and the implications for our business?
Segmentation & Targeting – Are we using the right segmentation approaches (usually, a combination of application and customer behavior) to identify and clearly target priority accounts?
Positioning & Value Proposition – Do we develop offers with compelling value propositions, tailored to our target segments and differentiated from the competition?
Marketing Mix – Are market activation, channel, and pricing tuned to the target segment-specific offers and value proposition?
Execution – Are a combination of metrics (effectiveness and efficiency) used to drive and communicate performance?
Internal benchmarks help an organization understand its performance across multiple business units or geographies and are a powerful source for leveraging internal good practice.  Sector-specific external benchmarks compare performance against "best-in-class" competitors.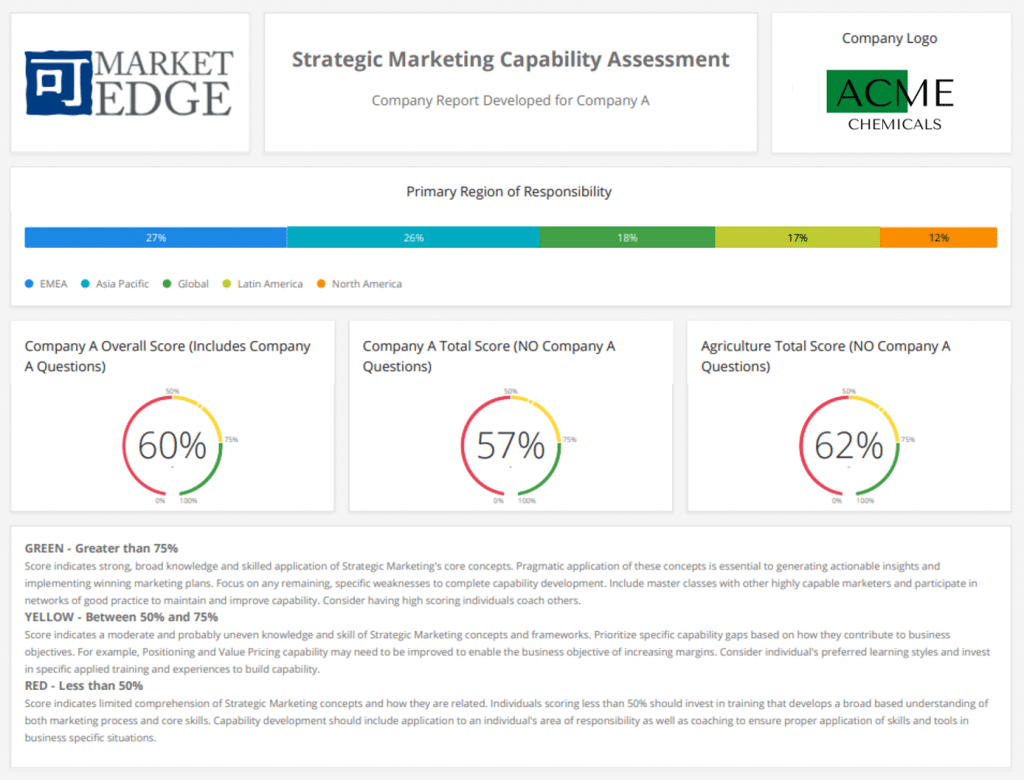 Above is a redacted Market Edge Strategic Marketing Capability Assessment report. The output indicates the individual's score, the company's total score, and a comparison to the industry "best-in-class" (agriculture in this example).  Assessment questions are tailored to the target's market (e.g. specialty chemicals, medical devices, etc.) and company-specific questions can be included.
To learn more about how to implement a marketing capability assessment in your organization, get in touch with a Market Edge consultant by filling out the information below or email us at info@mkt-edge.com.
[contact-form-7 id="1639″]