It's safe to say that 2020 was a year like no other and 2021 has not reverted back to normal. As business leaders reflect on the past two years, what are some of the key takeaways? What can you do to clarify segment and customer-specific changes that impact your current offers and new product developments?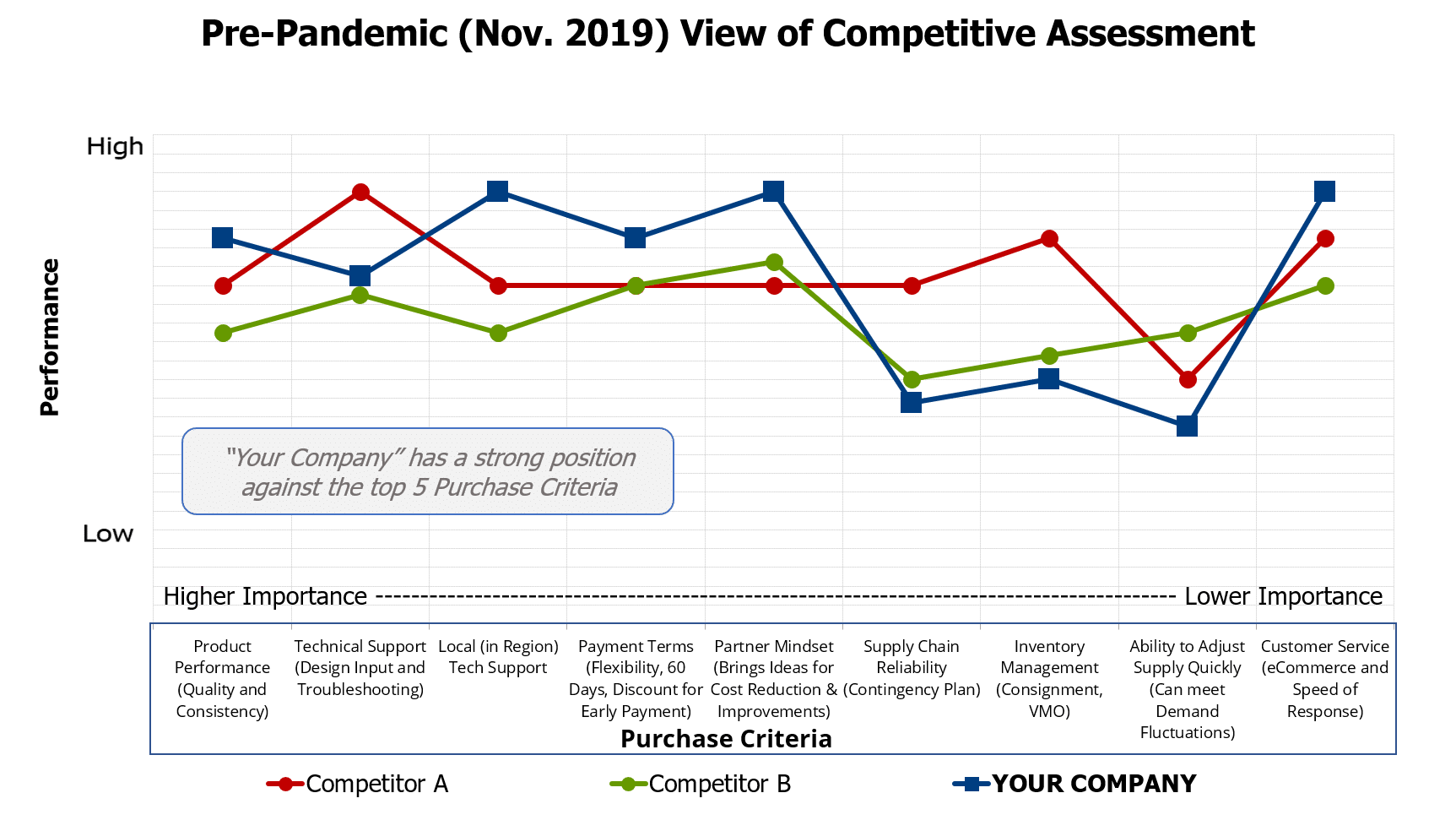 The Competitive Assessments above and below are redacted comparisons of the pre-pandemic and current priorities for a specific healthcare customer segment. The criteria that were less important prior to the beginning of the pandemic have now become much more relevant in the current view. For "Your Company", important criteria may have become points of weakness and must be addressed in order to maintain or increase your competitive advantage.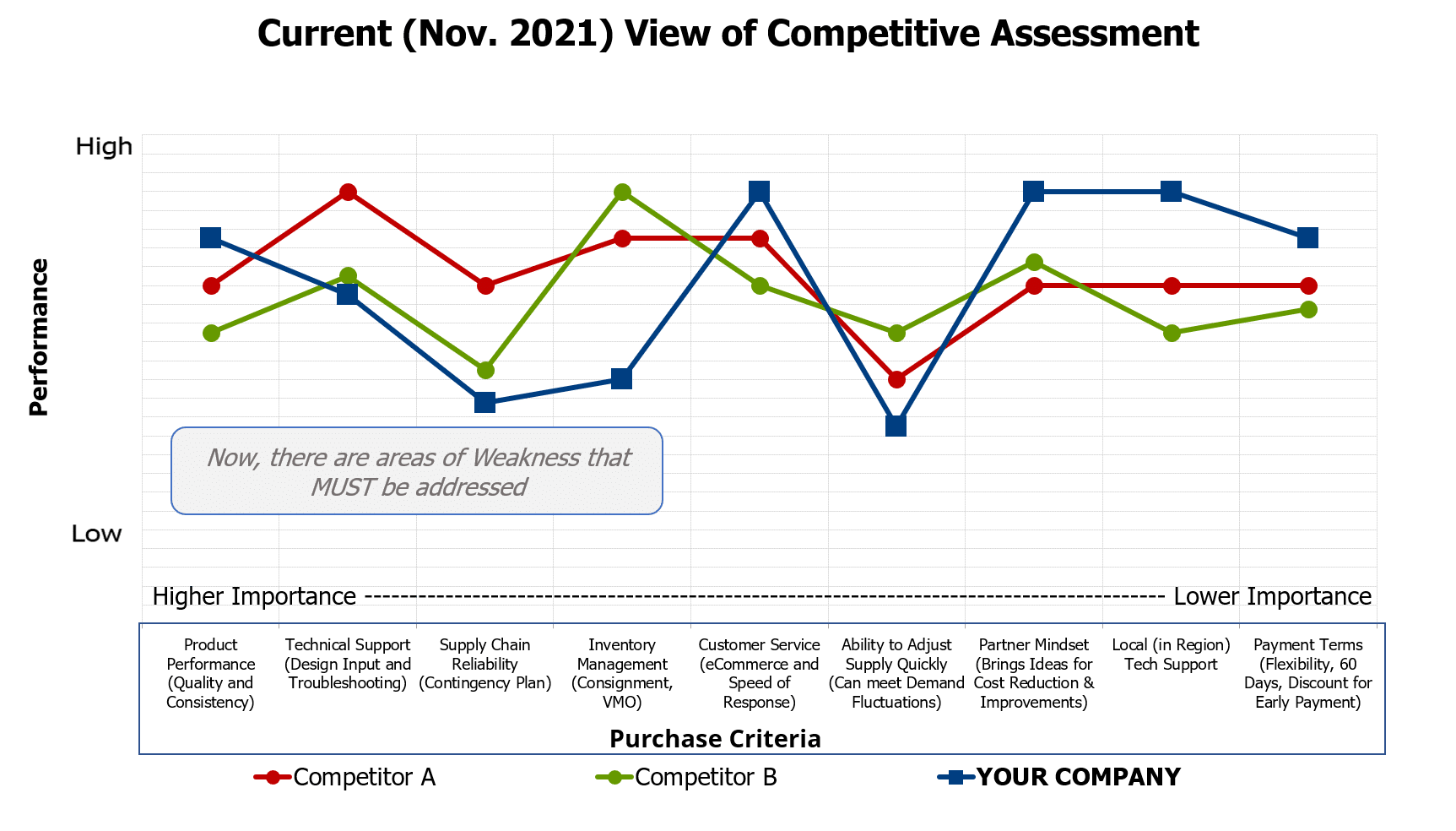 In 2019, it was expected that sales and marketing organizations would have plenty of face-to-face time with customers and the ability to network within an organization to meet key stakeholders. Also, your product development team was able to have first-person conversations with key stakeholders. While key stakeholders at a specific target customer may have already been split geographically prior to the pandemic, it is possible that some of these same stakeholders now have a 100% work-from-home office arrangement.
Although these key stakeholder interactions may still take place, it takes much more discipline to consider your customers' perspectives in order to answer the question (WIIFT?) – What's in it for them?
Align your sales and marketing approach to fit the evolving preferences of your customer by asking some key questions: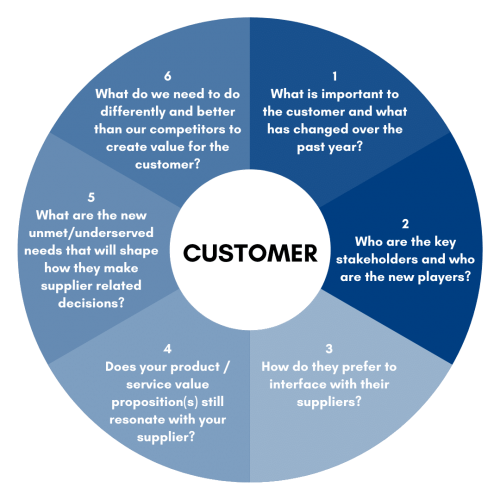 Asking and answering these questions is critical to an organization's success in the months and years ahead. No doubt, your most successful customers have evolved and adapted to the changing market environment. They likely changed their organizational structure and perhaps even their business strategy and strategic priorities over the past 18 months, which may have compressed and accelerated changes that were likely to happen anyway. No doubt, these changes evolved much more swiftly than anyone could have anticipated.
While understanding our customers is not easy, and the pandemic has changed how we interface with them, it is important to recognize that your competitive advantage starts with understanding – What do we know about a target customer that our competitors don't (yet) know?
Click the link and download a trial copy of our Competitive Assessment tool.
Interested in learning more about our tools? Check out the Market Edge Tools & Frameworks page or fill out the information below to get in contact with a Market Edge consultant.
[contact-form-7 id="6008″]