When you analyze  PEST (Political-Economic-Sociological-Technological)  drivers in B2B markets, like the growth of Electric Vehicles (EV) in the automotive market or alternative proteins in food, what are the implications for the Value Chain and how products are brought to market?
In the automotive industry, EVs are moving from the early adoption to the growth phase.  The Value Chain steps associated with vehicle assembly are significantly changing as internal combustion engine (ICE) assembly is replaced by battery assembly and installation. If you are a traditional supplier to ICE powered cars, how will this affect your operations (materially, geographically, labor, etc.)? Some of this change is already playing out in the current GM labor dispute, where manufacturing operations are being moved to vehicle assembly locations (where battery installation occurs) versus engine assembly. How will this shift fuel distribution and adjacent services in the future?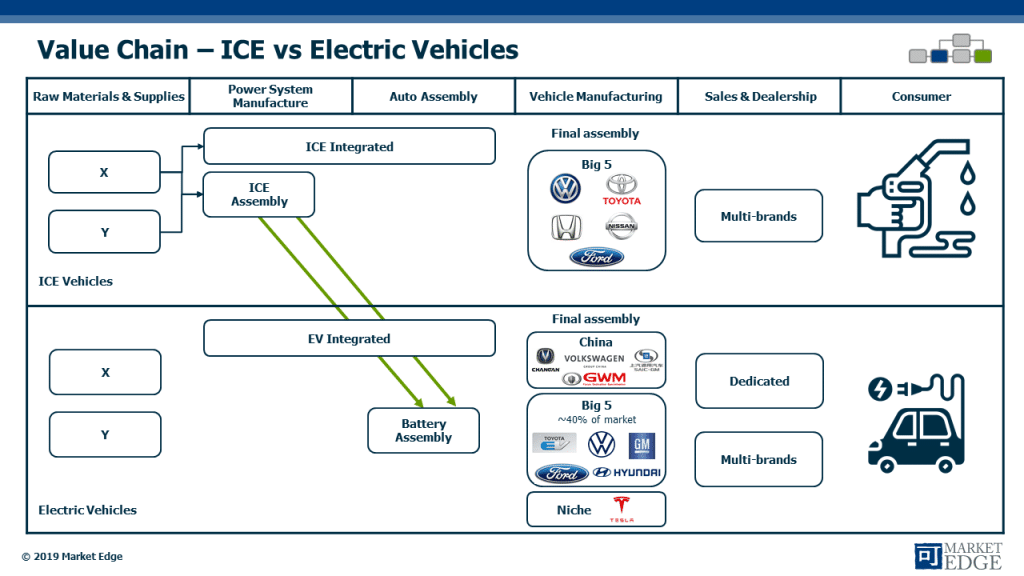 In the case of alternative protein development and adoption, how does the growth in plant-based or cellular-based proteins alter the Value Chain?  If you are a supplier to traditional meat processing operations, how will the shift to extruded plant proteins and lab-grown cellular proteins affect the strategic direction of your business?
The Value Chain is the backbone of B2B business system analysis and defines how value is created and transferred in a particular market. Raw materials are sourced from a number of plant protein producers or cellular protein manufacturers, processed and formulated into the form and features consumers desire, then distributed through retail to consumers, flowing left to right. Depending on population growth and demand trends, significant shifts in protein production away from animal protein may be seen and affect (geographically) where proteins are produced.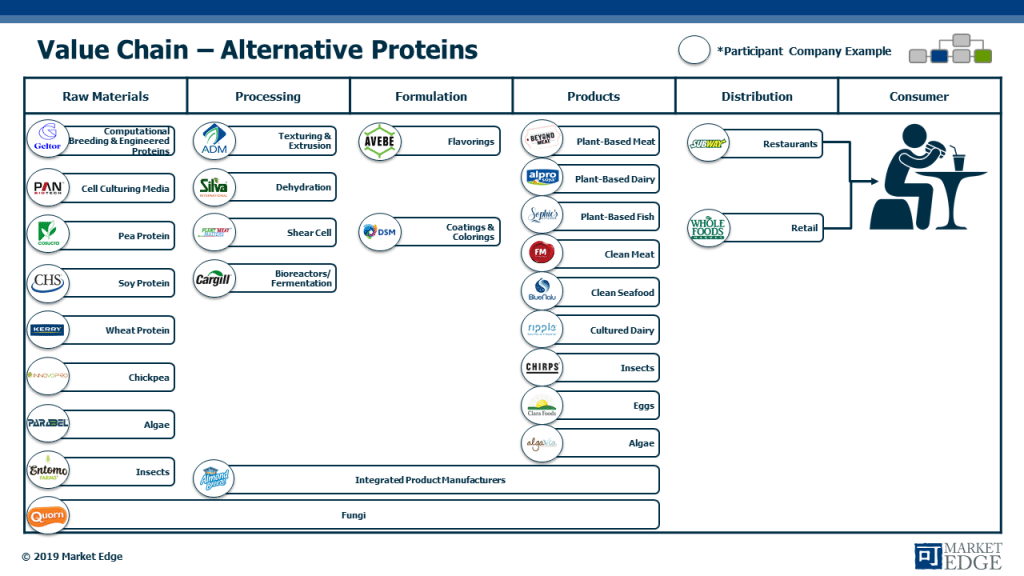 Value Chain analysis is the basis for other strategic marketing analyses, such as Porter's Five Forces and Opportunities and Threats. Often during strategy development, options to reconfigure the Value Chain emerge (e.g. "let's eliminate distribution and go direct to consumers…".  Before starting on potentially rewarding but very risky strategies that redesign the Value Chain, be sure to develop a thorough understanding of how of the Value Chain is currently structured and the forces that are driving performance and change. If you are seeing significant shifts (e.g. regulatory changes or threat of new entrants), it may be time to reevaluate the Value Chain and the implications for your business.