We have completed our Market Edge, EdgeSim™ Fall Corporate Challenge!  Results displayed below.
EdgeSim™ Corporate Challenge kicked off on Monday, October 2. Teams received their business simulation packets on the 2nd and returned their strategic plans by 3pm for each step of the process over a 2 week span. Did you miss your chance to sign up? Inquire with Maggie mdigirolamo@mkt-edge.com for registration information regarding our Winter EdgeSim™ Corporate Challenge or any of our other strategic, business, or other programs.
Background
6 client companies competed in a global market to introduce an innovative new offer over 4 years.  In an initial planning round, company teams created a strategic business plan that determined capital investment and financing.  In subsequent rounds (years), teams made decisions regarding: segmentation and targeting; R&D investment and priorities; marketing spend and tactics; and segment specific pricing.
The multifunctional corporate teams who acted as the executive leadership group for their respective companies.
FinWizards: A global, financial investment strategy firm
FilterFans: A category leading B2B industrial equipment supplier
MedicalConcepts: An innovative, world wide producer of medical implants and devices
SealtheDeal: A globally operating technology focused process sealing company
FeedAll: Agricultural category leader in modern farming technology
BlastingCaps: Specialty chemical producer for critical performance applications
The Strategic Planning Round
Teams met to develop their strategic plans for entering the global market.  Their critical decisions were where to build their plant as well as the manufacturing capacity.  While all teams began with the same capital investment funding…
Filter Fans and Seal the Deal made the largest capital investment in production capacity
Blasting Caps tested Western Europe with a smaller production capacity
Based on competitive investments, global capacity = 8.5K units: 46% in North America, 25% Asia Pacific, 23% Western Europe, and 6% rest of world
EdgeSim™ Challenge Results: YR 1
Blasting Caps sells 90% of their plant capacity while achieving 2nd highest unit sales.  Medical Concepts sold 1,855 units but operated at 53% of plant capacity.  What will they plan for year 2?
Global average pricing analysis show the lowest pricing in North America at $11,200.  Asia Pacific pricing was similar while Western Europe and Rest of World were respectively 12% and 18% higher.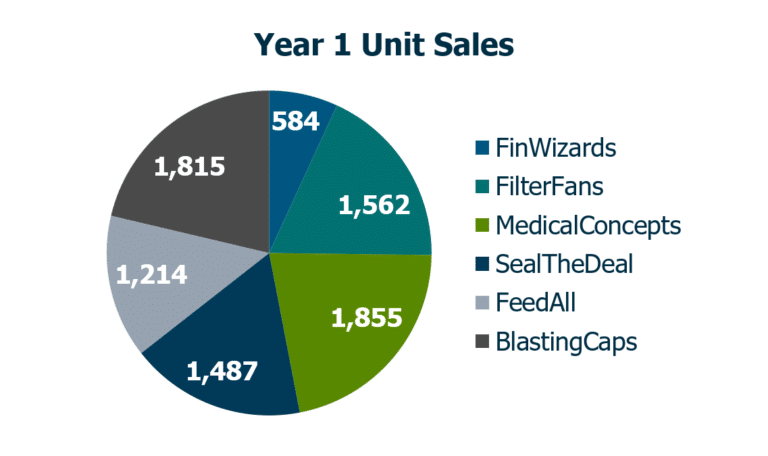 EdgeSim™ Challenge Results: YR 2
As global sales triple to 24.5K units, FinWizards break out with 10x growth
Global markets are shifting with the rest of world growing to over 12%
Average pricing has dropped by 15%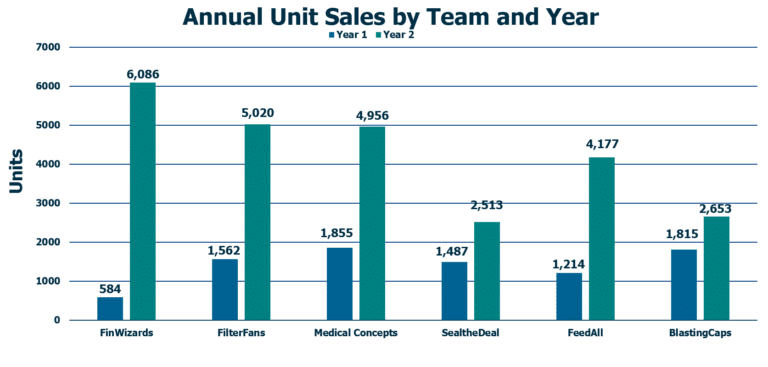 EdgeSim™ Challenge Results: YR 3
Global Markets triple with FilterFans and SealtheDeal capitalizing via cumulative advertising investment. Global price drop of 30% – are companies forgoing profit for market share.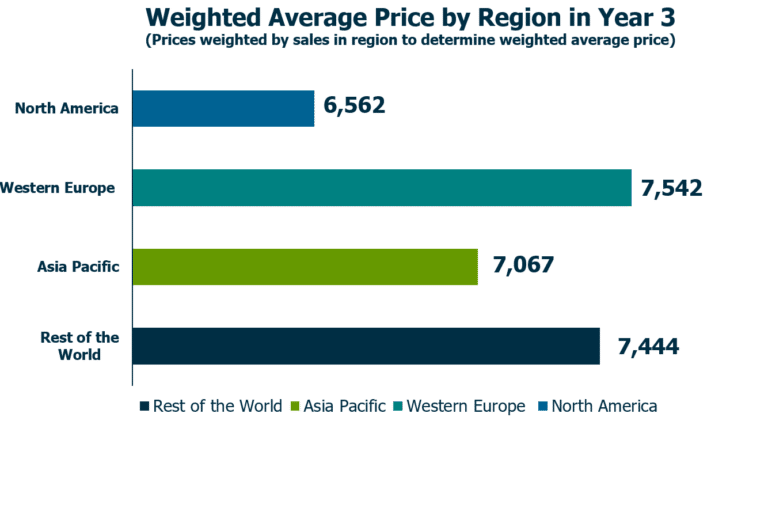 EdgeSim™ Challenge Results: YR 4
Global market matures and sales volume declines by 23%
SealtheDeal used a low price strategy to become the global sales leader
AND THE WINNER IS…

FeedAll WINS with $66.7M accumulated
Global Marketing Strategy showed regional focus in Year 1 followed by a balanced approach in subsequent years, and supported by well planned marketing and operations investments.
FinWizards in close 2nd with $64.3M
MedicalConcepts had to close their doors with a -$4M cash accumulation