Applied Learning on a 
Flexible Schedule
For companies looking to improve the business skills of their organizations, we offer the Market Edge Academy.  The Academy delivers flexible programs, user-friendly content and tools, and relevant case studies of our proven commercial management development programs which Market Edge has been delivering to Fortune 500 companies for over 25 years.  Unlike training seminars, the Market Edge Academy programs are applied-learning events; teams and individuals will quickly advance their business initiatives and results with the support of an experienced consultant during the program.
Customer Engagement – 2 Days
September 16 @ 8:00 am

to

September 17 @ 5:00 pm

$1950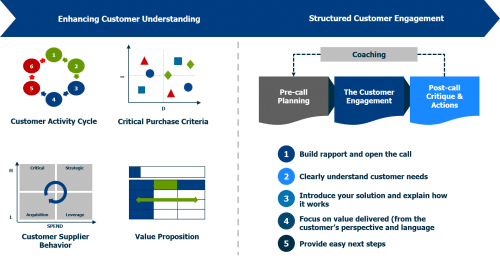 Customer Engagement uses pragmatic, proven approaches for commercial team effectiveness in meetings, understanding customer needs and delivering value propositions. This program is ideal for participants with responsibilities for account management, customer service or coordinating activities across multiple organizational functions. This hands-on program applies tools, techniques, role plays and templates required in pre-call planning for customer visits and account management.
During this program participants will:
Understand the account's strategies, goals and buying behaviors
Understand the account's organization and influencers
Develop value propositions that separate's your company from competitors based on your unique understanding of the account
Utilize proven pre-call planning tools to drive efficient customer visits and account understanding
Receive direct coaching in delivering effective customer engagements
Utilize techniques for implementation, tracking and delivery of engagement follow through
Continental breakfast, lunch and coffee breaks included each day in the program.
* For groups of 4 or more, contact us for group rates
Tags: Sales, Marketing, Innovation, Commercial, Customer Service, Strategic Account Management, Customer Planning, Value Proposition, Americas, USA
Our system processes payments through PayPal.  If you prefer other methods of registration and payment please email academy@mkt-edge.com
MARKET EDGE ACADEMY TERMS AND CONDITIONS
Online credit card payments are refundable up until 25 days before the starting date of the scheduled program. Registrations purchased before that time will be 100% refundable. Within 24 days of the start of the purchased program, registrations are not refundable;  a credit will be issued for attendance at select future Market Edge Academy events.
Online credit card payments will be processed via PayPal and their terms of service.
For direct, company invoiced registrations, a 50% deposit of the total number of registrations will be invoiced upon receipt by Market Edge of the registration form. The balance due will be invoiced upon the start of the purchased program. Payment terms are Net 30 days.
In the unlikely occurrence of a Market Edge canceled program a full refund of payments and deposits will be provided.